If you have a plan that you'd like to keep for reference, but that is no longer relevant to your day-to-day operations, you have the option to archive the plan.
How to Archive a Plan
1. Click and open the top card for the plan.
2. Once the plan card edit screen appears, navigate to the upper right hand corner, then click the gear 'Options' button.
3. In the drop down menu, select 'Archive Plan'.
How to Unarchive a Plan
Finding an Archived Plan
1. Click on the Plans option in the main navigation bar, then click the Plans option.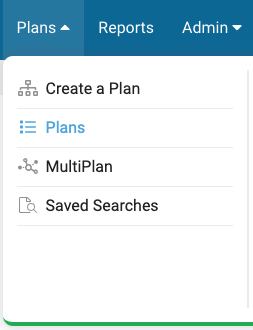 2. Once you are on the All My Plans page, check the box labeled Show Archived Plans.
3. All the plans you have marked as Archived will be listed along with all the Active and Inactive plans. Click on the plan name of the Archived plan you want to modify.

Unarchiving the Plan
1. Open the top plan item and click on the Options button. Then click the Unarchive Plan option.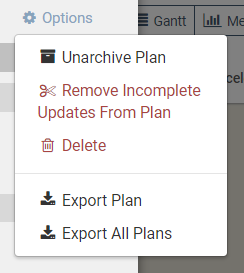 Note: When the plan is unarchived its state will automatically be set to Active. If you want to make the plan inactive you will need to change the plan state immediately after unarchiving the plan.