The Progress Update Landing Page is the most common way that many members of your organization enter the key status and metric data on your plans, projects, and initiatives into AchieveIt. We have received feedback from customers about ways to improve the usability of the Progress Update Landing Page and are preparing to roll out a new version that will incorporate many of these suggestions.
The most important enhancements you'll see are:
Refreshed look and feel: A cleaner, easier to read layout.
Previous updates: Option to see the previous update submitted for each plan item. This will help the contributor provide more accurate and thorough progress updates, without having to login to the system to reference previous updates.
Expanding comment box: If the contributor is providing a long, detailed update, the comment box will now automatically expand as the user types.
Item filters: More obvious filter controls to narrow focus to just past due updates or all updates.
Mobile layout: The page responsively lays out better on mobile and tablet devices.
Here's a preview of what the new page looks like: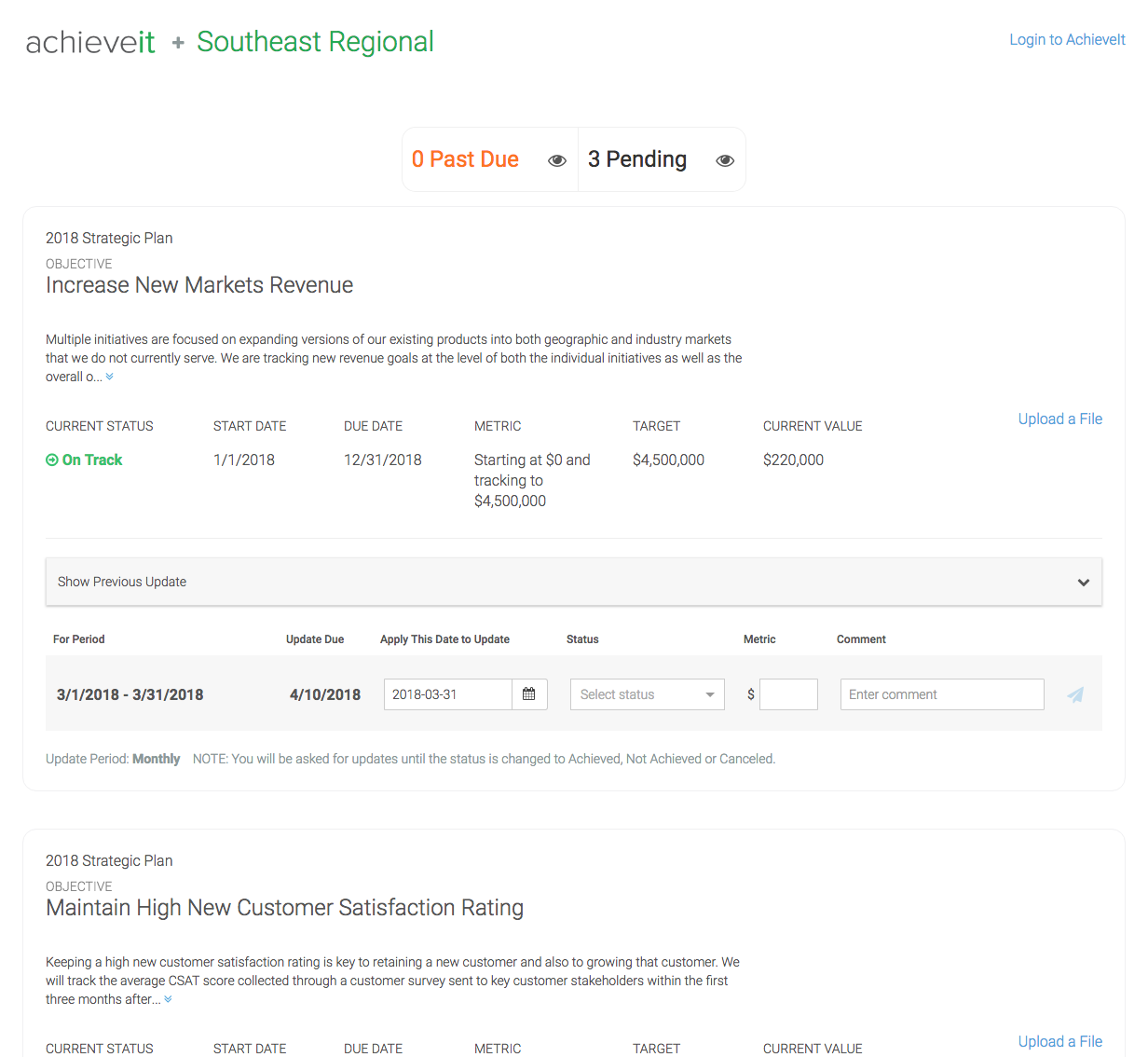 Schedule
We are first rolling the new Progress Update Landing Page out to a small set of customers during April. If you are a part of this group, you will be receiving additional information via email. If you'd like to participate in the early access group, just email beta@achieveit.com and let us know.
Our plan is to switch all customers over to the new progress update page by the end of May 2018. Here are the key dates in the rollout plan. We will update this page if any of these planned dates change.
April 12, 2018: Switch beta customers to new page
April 26, 2018: All new customers launch on the new page
May 23, 2018: Switch all customers to new page
Support
Beta Group Customers
If you are a customer in the beta group, you can report feedback and issues through our support channel at support@achieveit.com. You can also contact your customer success manager directly with any questions and training needs.
All Customers
In addition to the information on this page, we will be sending out email notifications and launching announcements and walk-throughs inside the system.
We know that you may have internal training and help documents that you might want to update before we set your AchieveIt account to use the progress update page. At the bottom of this article you will find a large-size image of what the new page looks like, and if you have any special requests or questions please contact your Customer Success Manager or support@achieveit.com.