We're excited to announce the launch of the new List View. Our team has been working hard for several months to overhaul this plan view to bring you better performance, a clean and refreshed look and feel, and new functionality.
In this article you'll find:
How to access the new List View
An overview of the enhancements

Performance
New Look and Feel
Changes to Bulk Actions

Timeline for rollout
What's Next in List View
How to get support and submit feedback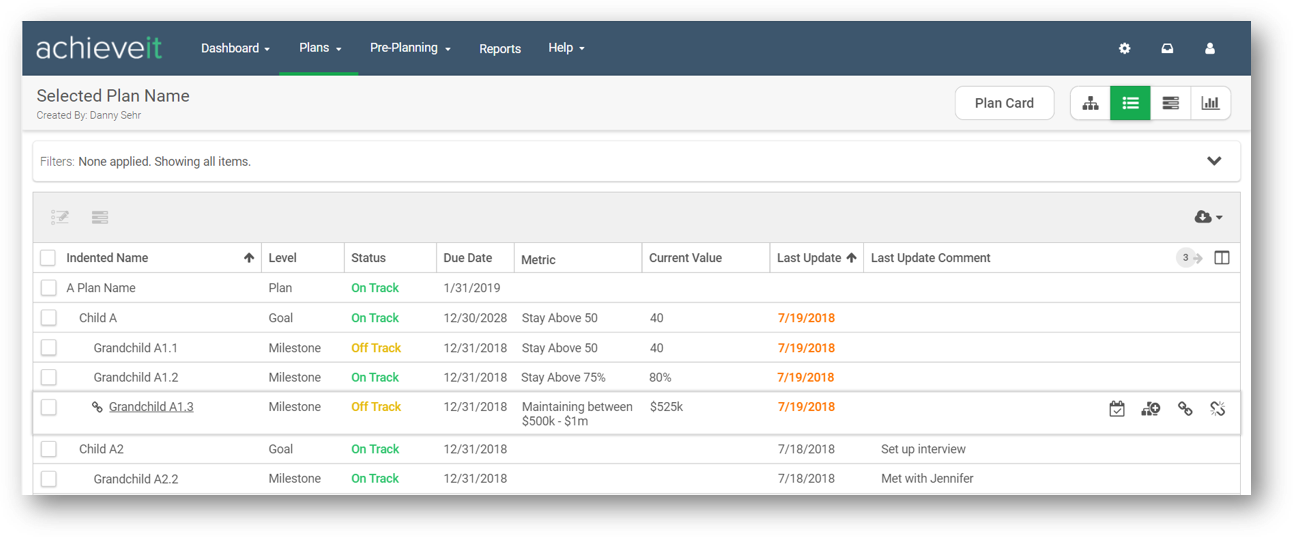 How to Access the New List View
View any plan in List View. To the left of the plan view navigation icons, you will see a "New/Classic" toggle. When you click on New, you are taken to the new List View.

To return to the Classic View, you'll see the same toggle options displayed at the top of the new view.

Meet the New List View
Performance
The foundation of the new list view is built on performance improvements resulting in significantly faster load times. Just think; more time back in your day, less time waiting for plans to load! In the new List View, plans with 2,000 plan items will load in less than 2 seconds.
This performance enhancement also decreases PDF download times. A small message will appear in the bottom right of your screen with the progress of your download. We've removed the pop up that blocks your entire screen allowing you to continue your workflow without interruption.
User messaging during download process:

New Look and Feel
The new List View is optimized for both readability and maximizing the amount of information presented in 3 specific scenarios: on-screen, projecting onto a larger screen (such as to a TV during a meeting), and in printed report format.
Action Bar
When we refer to the Action Bar, we're referring to the gray bar that sits above the column headers. Only users who are either an admin on at least one item in the plan, or who have the ability to download reports, will see this bar.

Bulk Actions
Users who are admins on at least one item in the plan will now see the Bulk Edit and Bulk Request Updates icons on the left side of the bar.
Download
Users who have the ability to download reports (full access users, or those users that have a customer contributor type with the Reports permission added on) will also see the Download icon on the right.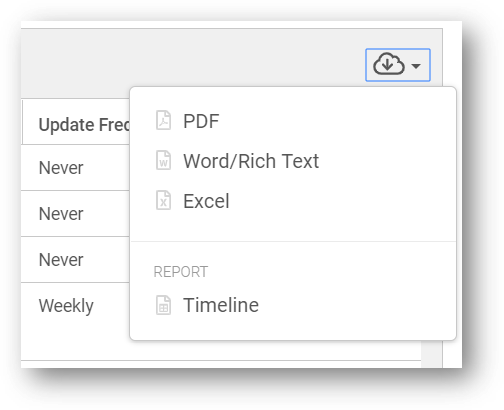 Scrolling Headers
Below the action bar, we've implemented scrolling column headers, so you always know which column you're viewing.
Hover Actions
In Classic List View, actions that a user could take on an item were displayed in the far right column of each item.

In New List View, actions are available on hover. This allows for more space to improve readability and increase font size.

The actions that are available have also changed.
In Classic List View, the actions were:
Open the item
Add Supporting Item
Link/Unlink Item
Delete Item
In New List View, the actions are:
Request Progress Update

This action allows members, assigned-to users, and admins to request a progress update for a single item.

Add Supporting Item
Link/Unlink Item
Delete Item
You can open the item by clicking on its name.
Apply Filters
New List View features an "Apply Filters" button that allow you to build your whole query before your search begins. This improves performance and allows you to make tweaks to your selections before the list changes. Filters won't affect the displayed list of items until they are applied.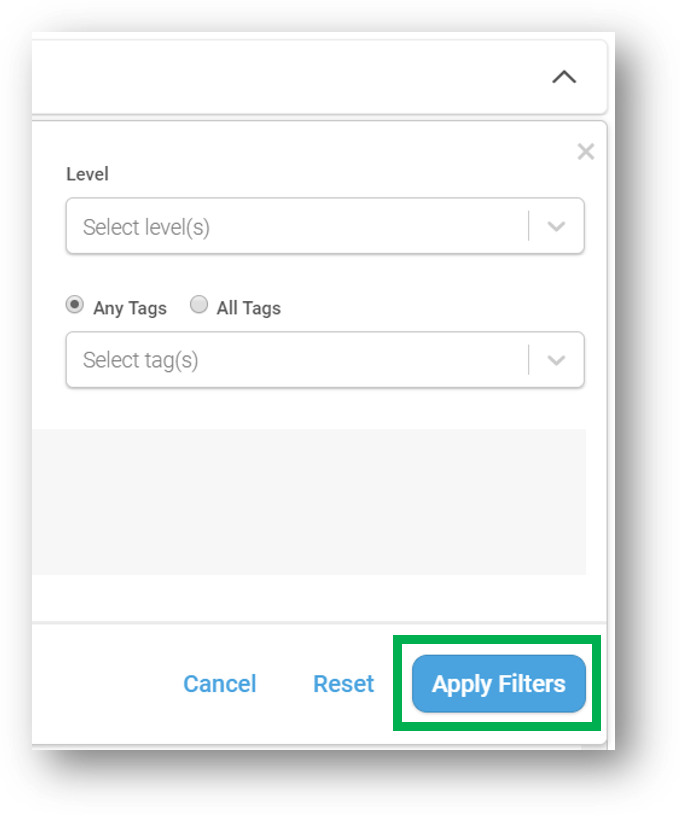 PDF Enhancements
The look and feel improvements also affect PDF reports. Here are a few improvements we made to PDFs:
Easier to read – no more gray rows, larger font size
Better use of space - we've moved the name of the plan and the applied filters to the header
Easier to read file names – file names are now the name of the plan followed by a time stamp of when it was downloaded
New time stamp - the file features a time stamp in the footer of the PDF, so you'll always know when the report was generated
Clearer messaging - if there's an error while you're downloading the report (for example, if your internet connection briefly blips out), a small pop up will allow you to "retry" the download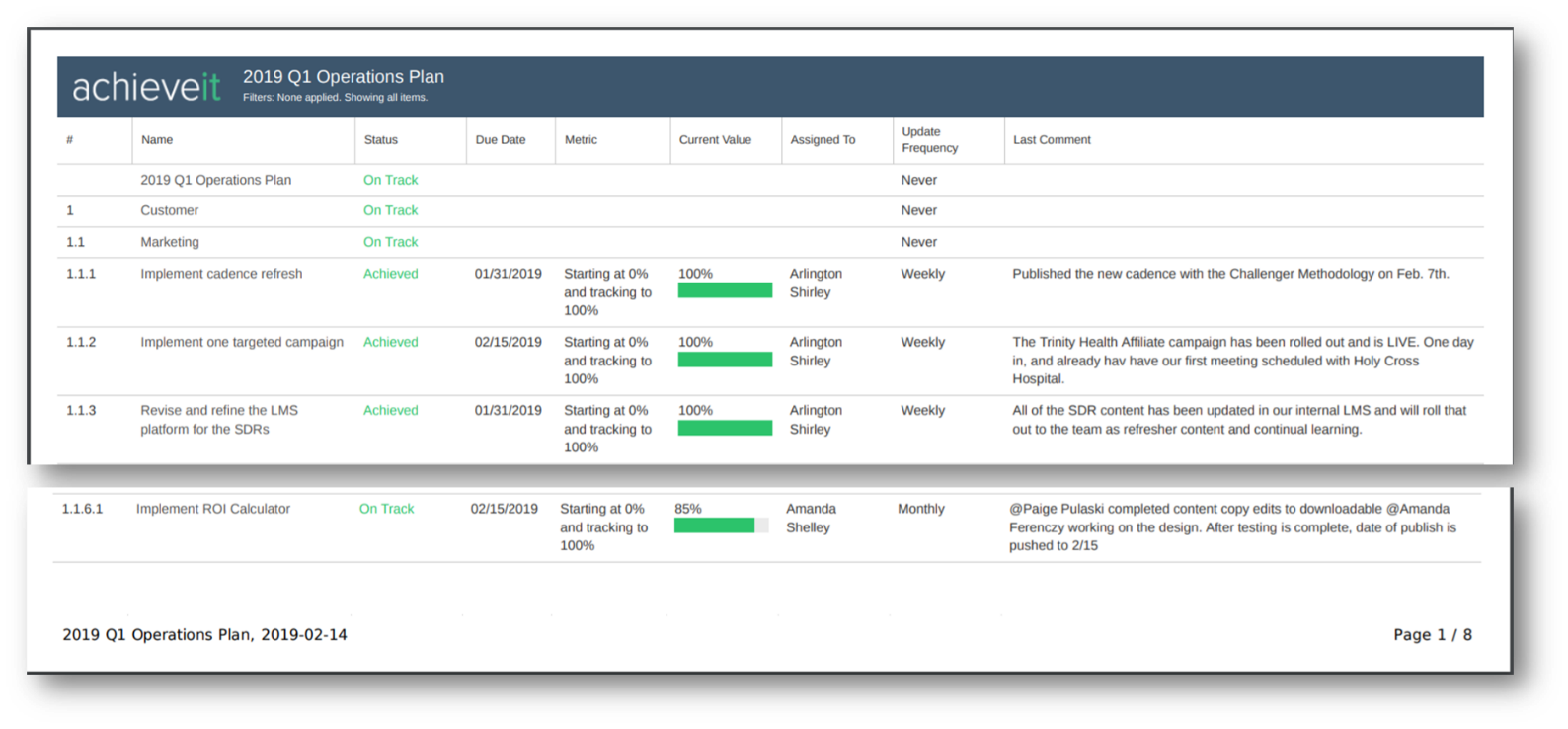 Changes to Bulk Actions
Checkboxes
In Classic List View, users would click on the "Bulk Edit" or "Request Progress Update" buttons in order to display checkboxes next to the items upon which they are admins. They could then select these items and enter the workflow for the action they chose.
In the new List View, the checkboxes are always visible. You first select the items upon which you'd like to take an action, then select whether you'd like to enter the Bulk Edit or Bulk Request Progress Updates flow, using the icons in the Action Bar.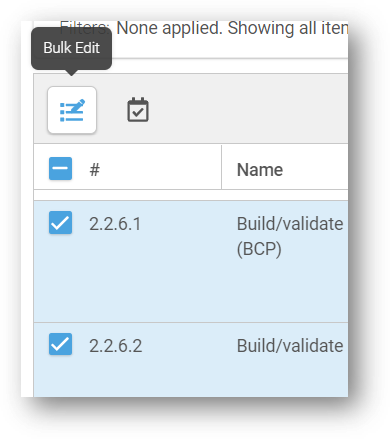 Linked Items
The most notable change we've made is that linked items are no longer bulk editable. We've found a significant number of customers making accidental changes to linked items using Bulk Edit, not realizing those changes would affect the item in the source plan. In order to bulk edit these items, you'll need to bulk edit them from the source plan.
Rollout Timeline
March 8: The new List View is available for all users.
Early June: The new List View is the default for all users. Scheduled reports switch to the new view.
Mid-July: Classic List View is retired and no longer available for users.
We will update this page if any of these planned dates change.
What's Next in List View
Scheduled Reports
Scheduled reports will reflect the new List View in early April. Currently, when you toggle to List View, the old List View is displayed, and you must click on the "New" toggle in order to switch over. This order will reverse in early April, with the new List View becoming the default view. We will switch scheduled reports to use the new view at the same time that new List View becomes the default.
Classic List View Features
There are a few less commonly-used features that are currently available in Classic List View that are not (yet) available in new List View. We will be adding these over the next several months.
Item count
Sparkline Graph column
Start and Due Date: "Between X and Y Dates" filter
Checklist items are not checkable/uncheckable
Tagging users in manual progress update request
Future Enhancements
The performance enhancements in New List View also build the foundation for future enhancements, such as:
In-line editing
The ability to reorder columns
The ability to bring similar to performance enhancements to MultiPlan View and other tabular views
Support & Feedback
You can submit questions, feedback, and issues through our support channel at support@achieveit.com. You can also contact your Customer Success Manager directly with any questions and training needs.
We will also periodically launch surveys inside of the app to gather feedback on the new List View. Please take a second to let us know what you think – your feedback will help us improve this view for all users!